Multicultural Club
Our School Outreach Coordinator, Kimberly Foster at TAF@Saghalie, celebrated the Lunar New Year this month with the Multicultural Club. They welcomed in the year of the Ox and shared wishes for prosperity and good health. The group also learned about some of the traditions of the New Year celebration and had a fun virtual background contest. Students even had an opportunity to to share some of their own family cultural traditions with the group. To top off the celebration, former Club advisor, Mis. Joaquin, stopped by to wish the group good luck upon our students for the year ahead.
---
GSA
GLSEN works to ensure that LGBTQ students are able to learn and grow in a school environment free from bullying and harassment. Our School Outreach Coordinator, Alicia Vasey-Neilson at Sequoyah Middle School, applied to a new program offered by GLSEN called "Rainbow Library" last month. Alicia is excited to announce that Sequoyah was one of the schools to be selected for the program and has already received their box! Rainbow Library is an initiative that provides LGBTQ+ affirming text sets to schools, teachers, GSA's and libraries to lend out to students. "We are so excited to start lending them out to our students to read and talk about during GSA" said Alicia.
More news from another GSA club comes from our School Outreach Coordinator, Sadie Strain at Highline High School. Sadie is excited to announce the relaunch of GSA at Highline! Sadie worked together with the amazing staff at Highline to get the GSA club back up and running. Collaborating with Ms. Corvino, they will now be holding GSA meetings every week! Sadie is excited to get to know her students by providing a space for them to be themselves and build friendships with each other.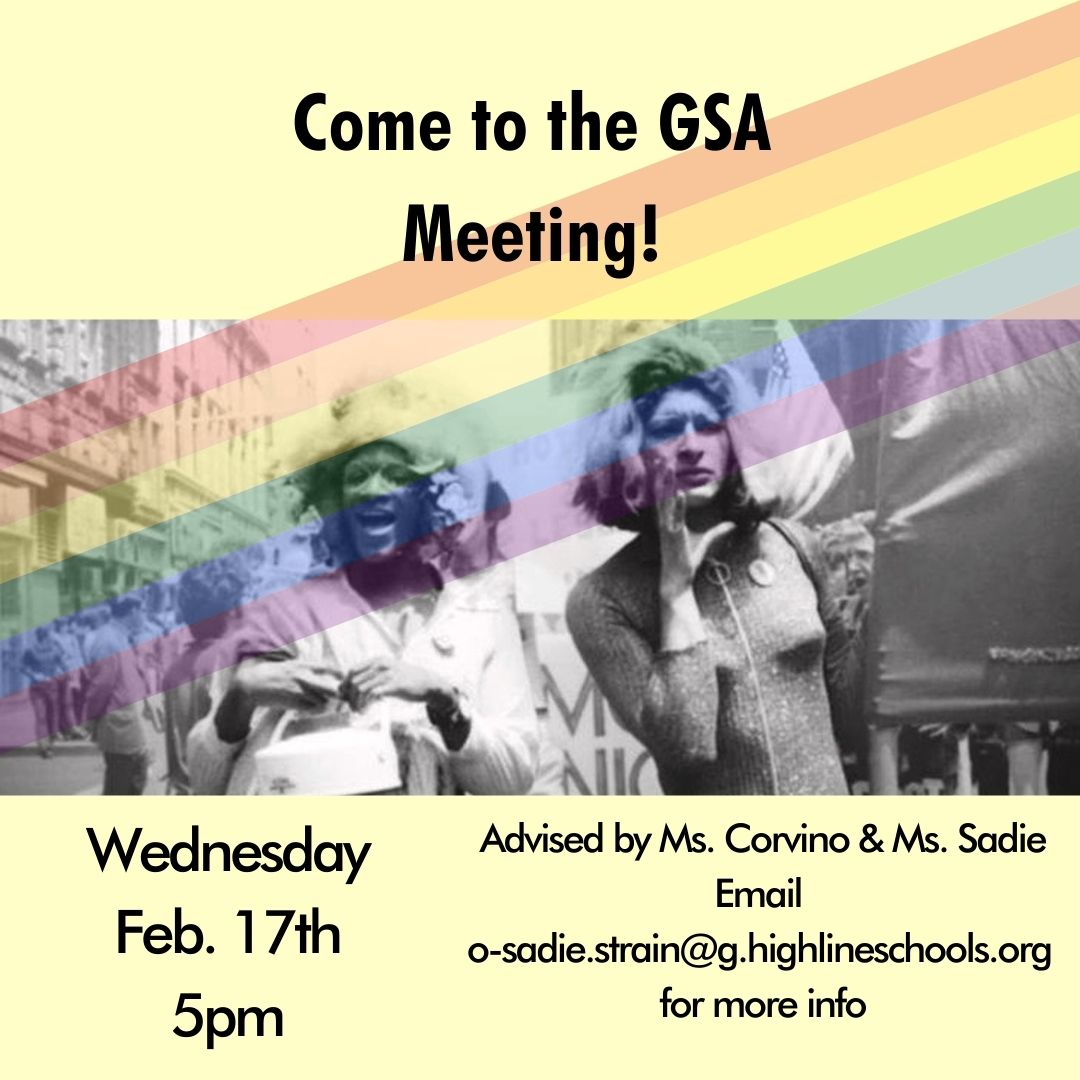 ---
Black History Month
February marks Black History Month, a celebration of the contributions African Americans have made to this country and a time to reflect on the continued struggle for racial justice. CIS would like to celibrate by sharing some stories. Our School Outreach Coordinator, Fatou Bah at Tyee High School, would like to celebrate her students from the Black Student Union who have done an incredible job working on the Black History Month assembly. For the last two months these students have been planning the Black History Month assembly, collaborating with the school staff equity team. The endeavor was entirely student led and BSU came up with every idea for the assembly. Three CIS students spoke at the assembly alongside staff members and Seattle activist Nikitta Oliver. "The assembly received positive reviews and opened up conversations that many staff pledged to continue to have with their students," Fatou said.
Illahee Middle School created a virtual space to celebrate Black History Month. In honor of Black History Month, they celebrated "Black Excellence". Using flipgrid, students and staff were prompted to talk about a prominent Black figure or icon that they admire. They were encouraged to discuss that person and share some details about their life and legacy. Our School Outreach Coordinator, Pat Perkins at Ilahee Middle School, was overwhelmed with what an honor it was to be recognized in the "Black Excellence" celebration. Pat shared, "Being assigned to Illahee Middle School for these 7 years has allowed me to become an embedded member of a successful team, all focused on the success of children. Black excellence shines in an environment where all contributions have value. Illahee demonstrates that by acknowledging diversity as one of our greatest strengths."
---
Snack and Tell
This month Precious Yarborough, our School Outreach Coordinator at Madrona Elementary, piloted a new group. The group is open to students from different grade levels. The "Snack and Tell" group created a space for students to gain back a sense of normalcy and gives them a platform to show special items to their fellow students and talk about them. At the first meeting, students shared art, special toys, pets and one student even shared their new baby brother with the group! Precious joined in the fun sharing some friendship bracelets she has been making. Snack and Tell was such a great success the students requested continuing the group and scheduling additional sessions.
---
Student Advocacy
Every student has tremendous potential. CIS helps students unlock their abilities and talents supproting them to succeed in life. This month, we had two School Outreach Coordinators share stories about students taking a stand and advocating on behalf of themselves and the student body. Our School Outreach Coordinator, Shana Ludwig at Decatur High School, was proud to share about her students in the Black Student Union and GUARD (Gators Unity Against Racism & Discrimination). Shana's students spoke up regarding district policy. The students layed out an argument that allowing images like Black Lives Matters and LGBTQ+ to be displayed on teachers canvas pages is a human rights issue and not a political one. The students worked hard to prepare and spoke with conviction, getting their voices heard.
Another student advocacy story came to us from our School Outreach Coordinator Cierra Gamble. Three CIS students from Todd Beamer High School are on the Principal Scholar Advisory Board. Cierra was excited to share that these students facilitated a Beamer staff meeting called, "Open Hearts, Open Minds." At the meeting the students presented data on how virtual learning affects their peers to the staff. They were able to articulate their feelings to the staff and field all staff questions. "I was so proud of them, they truly used their voice to create positive change at our school," said Cierra. She additionally noted, many teachers had positive take always that will improve their interactions with scholars.
---
Notice Board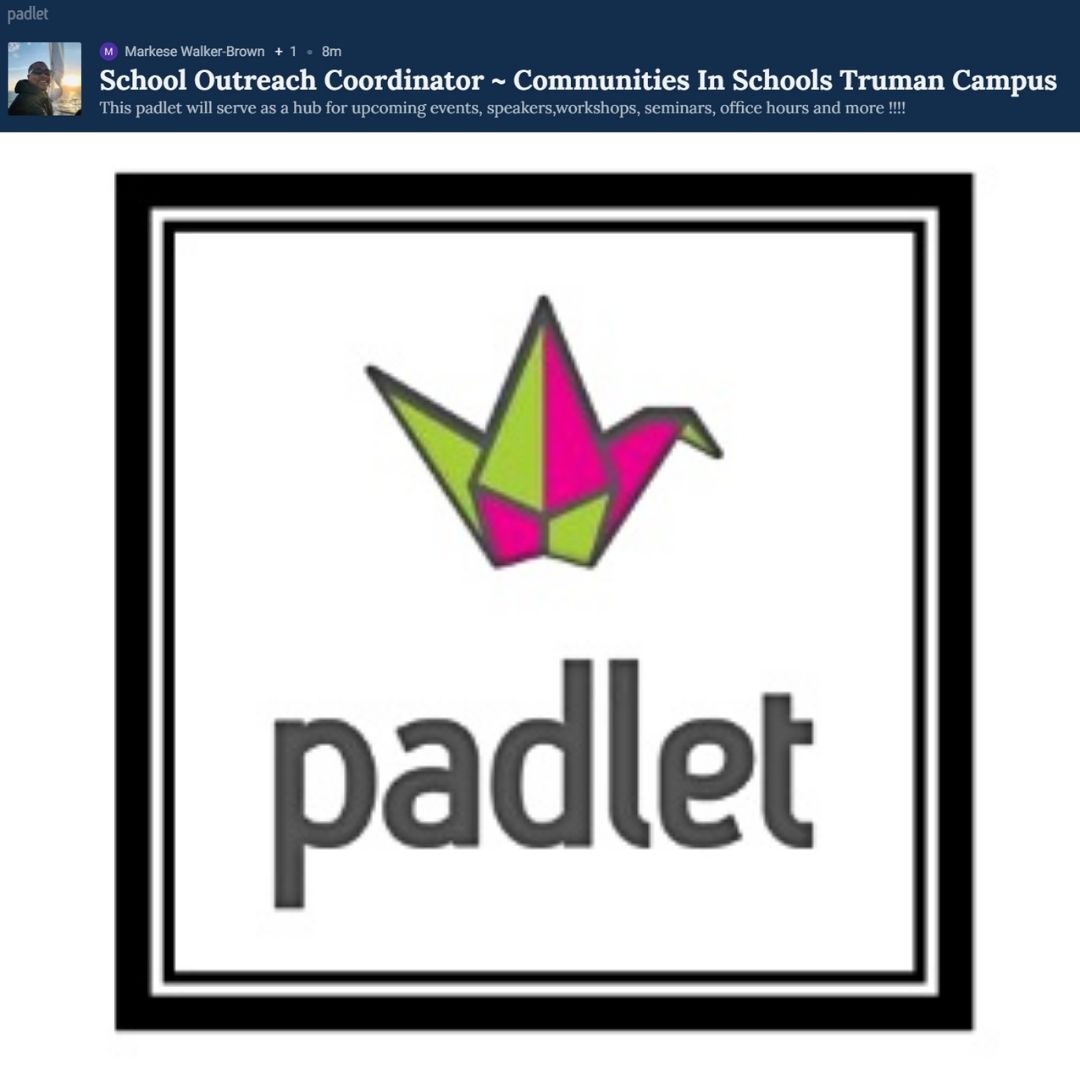 With continued challenges with distance learning, our School Outreach Coordinators are continuing to pivot and adapt new techniques and technology to reaching our students. Our School Outreach Coordinator, Markese Walker-Brown at Truman Campus, is excited to share his success utilizing a new resource. Markese was recently introduced to "Padlet," which is a digital tool that can help to stay more connected with our students by offering a single place for a notice board. Markese is using Padlet to compile all the community resources for his students in one central location. Some of his more recent opportunities for scholars include: Kings Rise Up Program, Hot Jobs for high-schoolers through the YMCA Social Impact Center, ANEW Pre-Apprenticeship within the constructions trade, & BEN Scholarships (Black Employee Network) in partnership with Amazon. Since Markese is making regular updates to the notice board on a weekly basis it is allowing for continued engagement with his students.
---
Scholar Voice Collaborative
This month two of our School Outreach Coordinators wanted to put the spotlight on their Scholar Voice Collaborative groups. Amanda Martinson is excited to bring us news of Lakota Middle Schools 2021 SVC relaunch. The group brainstormed a variety of ways to get more students involved and spread the word about SVC. Since Amanda is new to Lakota this year and they are faced with challenges of continued remote interaction, creating difficulty to gain new members. The group is working with Amanda to overcome membership challenges and get the word out. With the momentum and excitement of the 2021 relaunch propelling them forward the students already came up with an amazing flyer that they made collaboratively on Canva! The flier was created with a live link to a Google form to make things easier for students to get in touch if they are interested in more information about SVC. They will be pushing this out to all "Falcon Time" SEL classes. Amanda praised the wonderful work all of the students put in and told us how hopeful they all are to gain new members soon!
Makenna Lester, our School Outreach Coordinator at Kilo Middle School, brings us news from another Scholar Voice Collaborative group. Makenna's SVC group recently presented their ideas to the Kilo school staff. The group proposed interviewing fellow Kilo students and staff about their cultures. They would then share the interviews with the student body by showing the interview videos in the morning announcements. Since Kilo is so culturally diverse, the group feels that it is important for different cultures to be highlighted. The group would like to create an environment where students' cultures are highlighted and allow fellow students to gain an appreciation for other students' values, languages, and traditions.
---
Hardship Support
Our School Outreach Coordinator, Gina Forest at Federal Way High School, shared a touching story this month about a family that she was able to support during a time of great hardship. Gina has been working with this family for some time now, supporting them through Thanksgiving and the winter holiday season. It was at that time, during the holiday season, that Gina was able to connect with the family, further discovering the mother had recently lost her job. Being a single parent the loss of income had resulted in harsh financial hardship and displaced their living arrangements leaving them homeless. Fortunately, Gina continued to work with the family and was able to provide some financial assistance that they desperately needed. The family was elated to have the help they needed to get back on their feet during such a difficult time.
---
Spread the Word
Our School Outreach Coordinator, Alexis Jordan at Totem Middle School, had the opportunity to hear first hand how she leaves a lasting impression with her students. Alexis joined a BSK-TIRP meeting this month and was quickly surprised, receiving a private message from a community partner. The community partner reached out to Alexis because they thought she might like to know one of her students raves about Alexis all the time and is "super thankful" to have her at Totem. Alexis was taken back a little by this, she had no idea that students were talking about her to other adults outside of Totem teachers. She is thankful to know that she is making an impact in our students lives and able to reach even further than she knew. It is so important to reach as many students as possible especially while everything is distanced. Hopefully keeping her students talking outside school will help spread the word to even more students she can reach.
---